Adam Rogers has lived in Maine for the last eight years, settling in Cumberland with his wife Nicole, an architect, in a surprising Mid-Century ranch among farms and recent constructions. To enter their space is like entering a design showroom, with each piece carefully chosen and placed specifically within the space. Through his own work in furniture design, appreciation of quality in all things, and distinct vision, his home, and how it is curated, is a reflection of all of this.
We recently visited Adam and Daisy (his dog) in their home between his teaching engagements at Rochester Institute of Technology, to discover more about his design sense and how he approaches his creative process.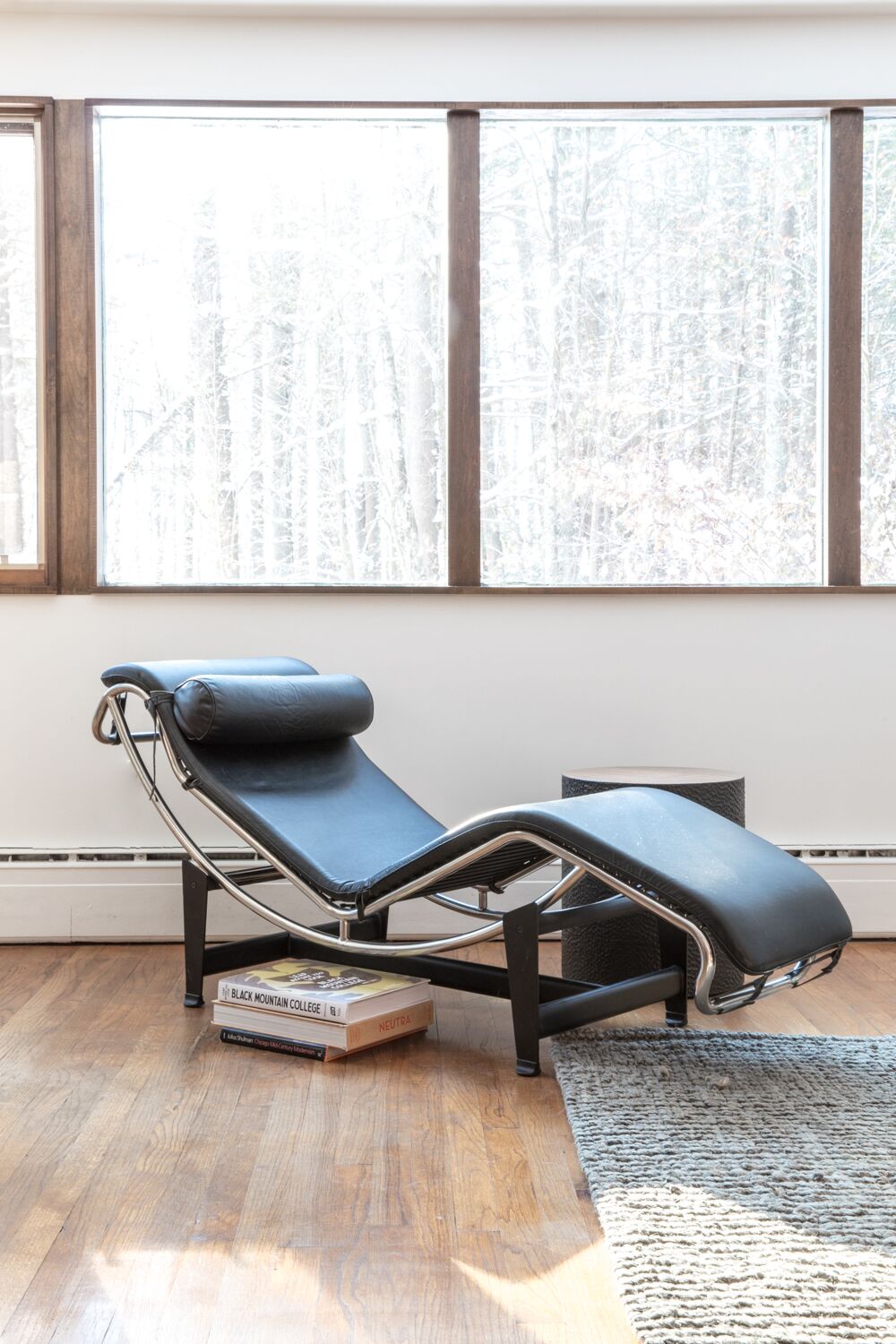 "I worked with a wonderful and talented group
of designers, engineers, and craftsmen and craftswomen to turn ideas into objects."
Three favorite reads
The Soul of a Tree, Why We Make Things and Why it Matters, On Writing: A Memoir of the Craft
Describe your style in one word
Uniform
Favorite album
Beyonce's self-titled album
Something that you always have in your fridge
Kraft singles (for Daisy, my dog)
Favorite place to eat in Maine right now
Empire
Sign
Aquarius
Favorite Maine spot for some quiet
In a kayak on Casco Bay
THE MAINERS: Tell us a little bit about your journey that has lead you to where you are now?
ADAM: I studied architecture in undergrad before working in corporate architecture in my 20's. Because I wanted to focus more on the direct relationship to my work and incorporate my interest in craft, I bailed and went to grad school to get an MFA in furniture design and woodworking.
After grad school, I came to Maine to work for a large furniture company where I worked for 7-8 years, starting in custom design and eventually becoming the director of design and product development.
THE MAINERS: Tell us what custom design means?
ADAM: Custom design is anything that is not standard or "out of the catalog." It's mostly working one on one with clients. The role helped me learn and understand the mechanisms and processes of production, how various decisions impacted the cost of an object, and how to maximize the efficiency of the manufacturing process.
THE MAINERS: Describe your role as director of design?
ADAM: Primarily, I designed the new standard products. Beyond that, I was responsible for product strategy and development, and was a part of the team responsible for rebranding, a refined presentation of the brand at all touch points, including the design of several new showrooms in the major US markets to align with the newly established brand aesthetic.
THE MAINERS: Can you describe the design process there?
ADAM: Sure. I'd start by creating a design brief that described the intentions of a given piece or collection which would outline everything from business objectives to aesthetic goals. Once this was approved, I worked with a wonderful and talented group of designers, engineers, and craftsmen and craftswomen to turn ideas into objects. First, we'd make prototypes from my sketches, eventually computer modeling the pieces after the prototypes were finalized and then they were engineered to be put into production. I tried to be as hands on as possible throughout and we always relied on the physical making of the concepts to refine the idea.
THE MAINERS: How did the professorship at RIT develop?
ADAM: Because I went to school there, I maintained a relationship with the program over the years, returning regularly to give lectures or sit in on critiques. Eventually, one of my professors, who I considered one of my mentors, retired. Rather than doing the standard faculty search, I was offered a visiting professorship. The first year I taught at RIT, I kept my job as director of design and somehow managed two full times jobs in two states. Eventually I made the decision to resign my position and focus on teaching and to establish my own furniture design studio. I am now finishing my second year of teaching and will commit more fully to my studio starting this spring.
THE MAINERS: Tell us about your studio.
ADAM: Well it's creatively named Adam Rogers Studio. As of now I'm working for outside brands who manufacture my designs. I have a couple collections launching this spring that I'm very proud of. In addition to continuing my design work for brands, I'm moving into a larger space in Portland this spring where I'll focus on developing my own collection as well as looking to collaborate with local designers, and to make custom work.
THE MAINERS: How did you develop your aesthetic?
ADAM: My grandfather has always been my mentor. He worked as a foreman at Pontiac Motors (GM) and ran a shop where they made concept cars. He is the most inventive and ingenious guy I've ever known. He solved problems through making. In hindsight, I realize I was learning the foundation of my design principles from him while recognizing the role of craft in a design solution. The right solution was always the most direct, straight forward, efficient. With an engineering mind, his approach was very practical. In addition to absorbing this growing up, studying art, architecture and design was a way for me to combine the practical solution with the poetry of aesthetics.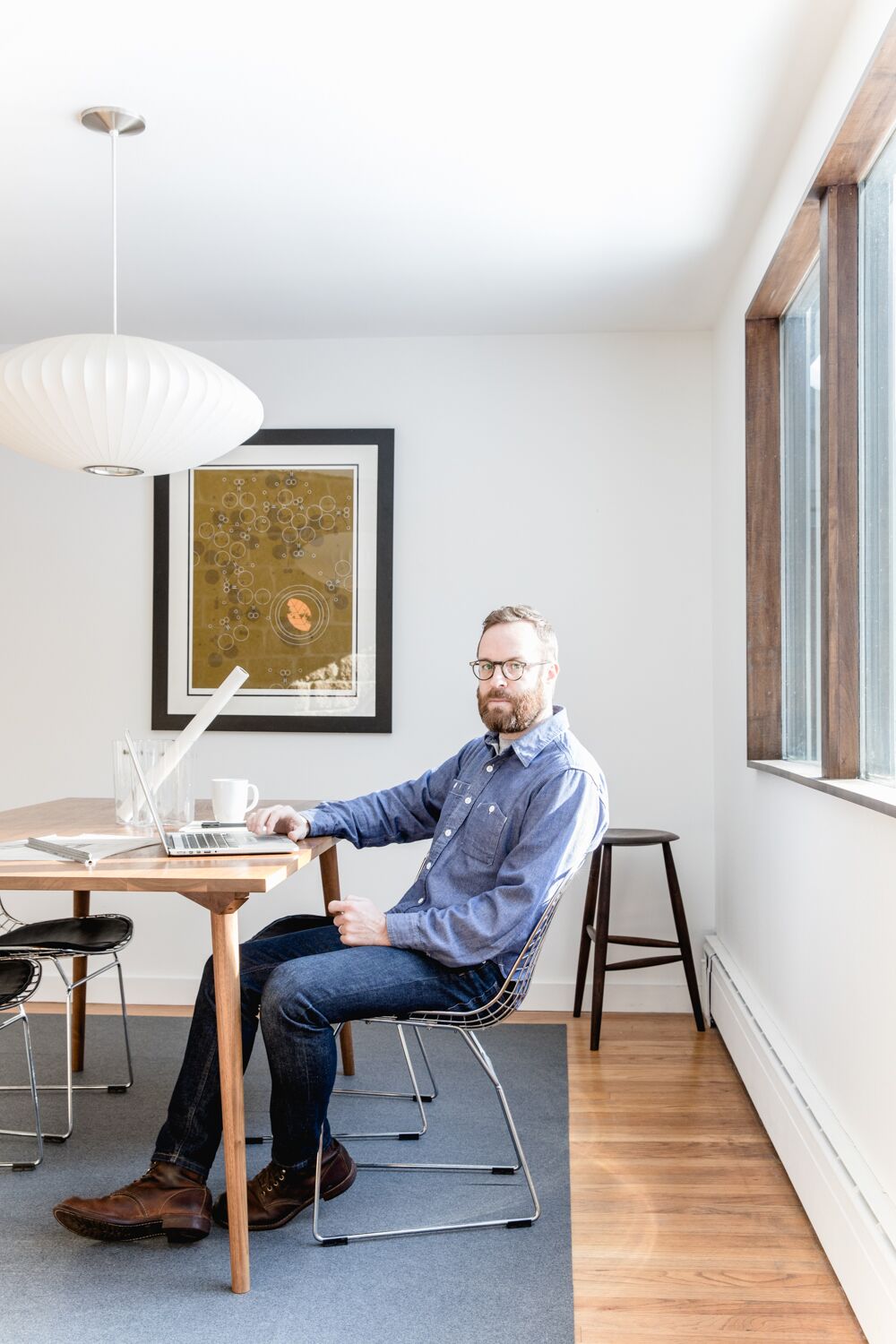 "Some people think [my home] is too sparse, but I prefer to think of it as considered;
placing greater importance on the admittedly few objects within."
THE MAINERS: Tell me about your space, especially all of the beautiful things in it?
ADAM: I'd describe it as an object-driven space. Each object is meaningful and has value; whether it was made by a friend, represents an experience of ours, or is something that I made myself. Some people think it's too sparse, but I prefer to think of it as considered; placing greater importance on the admittedly few objects within. The space itself serves as a container, designed and built to be simple, and to allow the objects to be the emphasis.
In that way it is consistent with my approach to furniture design; keeping the overall forms simple while putting the emphasis on the few considered and amplified details; typically joints that tell the story of how the object was made and ultimately why it has value.
THE MAINERS: How do you choose pieces?
ADAM: Of course function is important, like a chair should be comfortable and everything should be beautiful, right? But the meaning of the object trumps all of that. If a friend makes something and gives it to us, well, it is cherished and displayed. Maybe we are minimalists, or maybe we need more friends.
Beyond those objects, most of the purchased pieces are what I consider classics; Noguchi, Eames, Nelson, Corbu, etc.
THE MAINERS: What do you do for fun and in your spare time?
ADAM: I make furniture.
THE MAINERS: Describe your daily "uniform."
ADAM: I wear jeans and a button-down shirt with boots. I realize I probably perpetuate my own cliché with the way I look but it's what I like and feel comfortable in. Guess it's just who I am.
THE MAINERS: What about Maine inspires you?
ADAM: It's probably less about place specifically and more about what this place facilitates. Having lived in four other states, the casual vibe and open-minded community here are un-matched. The natural environment, and culture and lifestyle of Maine is fertile ground for creative endeavor and a thoughtful existent.
THE MAINERS: How do you approach a new design?
ADAM: I start by making a document that outlines the goals, the more goals the easier the decisions along the way. I focus a lot on the context of my work so I include many references of spaces, feels. I typically explore rough ideas through little mock-ups of joints or details to be combined with simple forms and eventually draw concepts on a big old drafting table before getting to the bench to work through the design physically and in 3-dimensions to refine.
THE MAINERS: What do you do when you get stuck in your design process? Or creative ruts?
ADAM: I embrace the idea of thinking through making. Trying new things, exploring new ideas, connections, joints without pressure. I remind myself I'm not trying to make THE piece, just trying to make A piece. I try to relieve the pressure or get through a rut by simply enjoying the process – reminding myself I'm just making a thing, not saving the world.
THE MAINERS: What is your favorite part of the process?
ADAM: Probably the learning that comes from the continued practice. That's why I love teaching. This craft thing is one long history of skills and ideas passed down and evolved through experience. I enjoy trying to distill lessons from the process and sharing with others.
THE MAINERS: What is a daily routine?
ADAM: Make coffee, catch up on some news/current events (even if it's hard to read), and ease into the day…