If you happen to be strolling down the streets of Rockland, you just might find yourself peering into the windows of an eclectic vintage shop situated on the corner of the bustling main drag. The door is often propped open and there's always good music on the turntable. The duo behind the playful shop Curator have created a bustling business in a town that's experiencing a bit of a resurgence, and have also made their home just down the road.
With their lighthearted and simplistic approach to life, style inspiration from childhood trips to Paris, and resourceful ways of living and running a business, these two inspire and leave us lusting for vintage Levis and yard sale holy grails. Read on for tips on vintage style, creating a beautiful home on a budget, and the perfect meal for entertaining.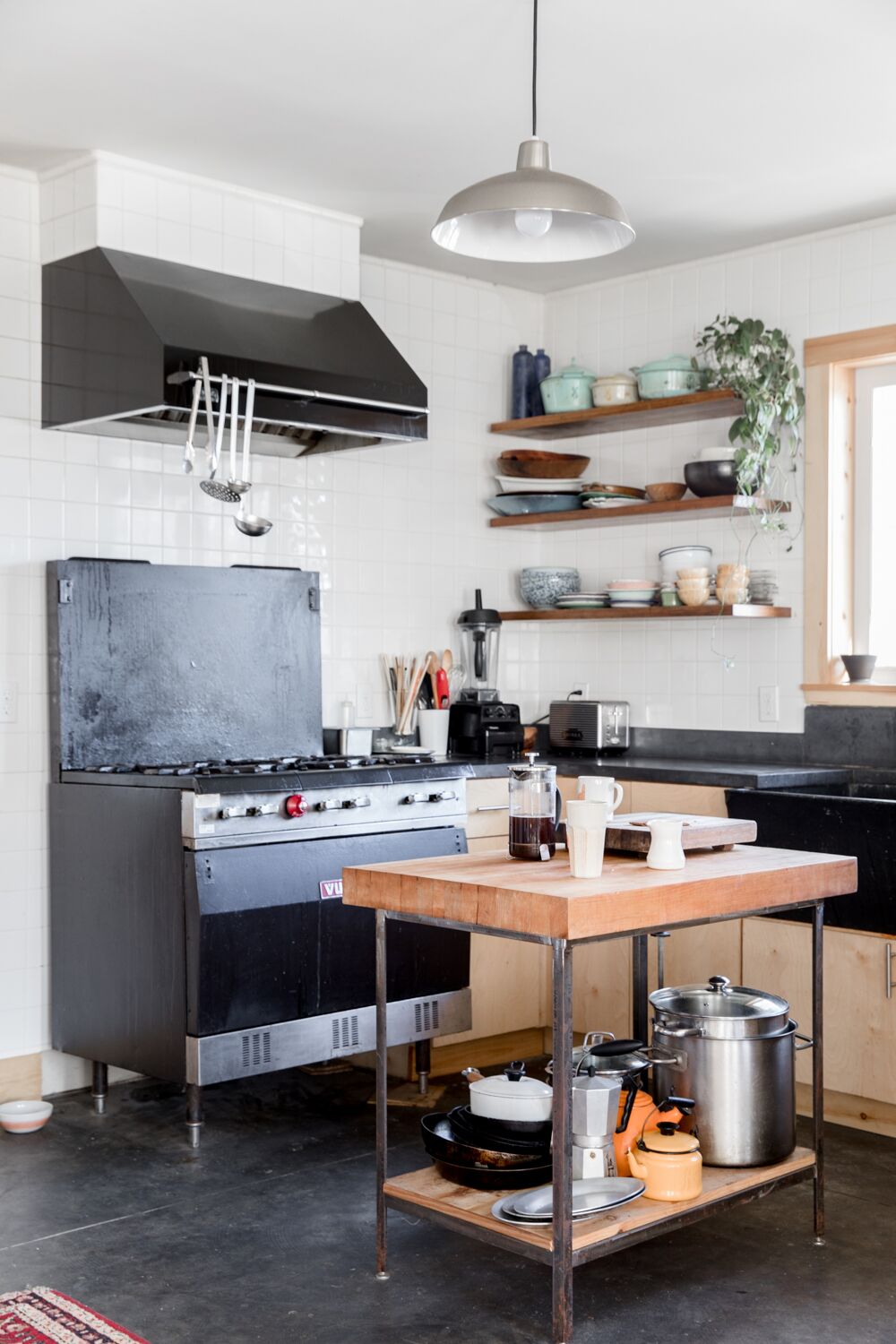 "Neither of us are particularly careful people,
so we can't own a white couch or a coffee table that needs coasters."
Best spot in town for lunch:
It's a bit out of town, but Salty Owl at the Owls Head Airport is so so good
Oysters…yay or nay:
Always yay, either North Haven or Pemaquid
Most coveted cooking implement:
A sharp knife
Could not live without:
Coffee (and our dog)
Best yard sale find:
It's at the next yard sale
Favorite corner of your home:
The kitchen!
Your go-to outdoor spot to just chill:
Beauchamp Point in Rockport
One word to sum up Rockland:
Scrappy
THE MAINERS: I love the ease and playfulness with which you both approach life, style, and curating your interior. Can you describe your aesthetic in these areas and how you work together to create these things?
EMILY: For me, the pieces in our home (and my wardrobe for that matter) have to be beautiful but not precious. Neither of us are particularly careful people, so we can't own a white couch or a coffee table that needs coasters. Almost every weekend of the summer we go yard saling together, and we find a lot of our housewares there. Often when we find a good piece, or a weird one that makes us laugh, we buy it and it either comes home with us or goes to our store.
BEN: I'm with Emily on this one. We lead a pretty rough and tumble life so things that can take a beating are a must. I like the idea of beautiful but not precious, it's really how I would describe myself as well.
THE MAINERS: Your house was built recently, but on a lot in a neighborhood that had an existing older home. Can you tell us about the process of building and designing this space? Were you both involved?
BEN: When I first bought the house I thought it was going to be a paint and paper job but I quickly realized the house was never going to be as nice as we wanted it to be. Making the decision to build a brand new house was intimidating, both financially and emotionally. However I have some amazing friends who helped me design and build this space. My goal was a modern home with antique farmhouse touches and a restaurant caliber kitchen that we could easily entertain with. I made all the aesthetic decisions during the construction process but Emily has been invaluable in helping this house become our home.
EMILY: When I met Ben five years ago this spring, he already owned the property. I was not involved with the project until the house was finished and it was time to move in. The only thing I insisted on was that we have all white walls.
THE MAINERS: I love the fact that your home is new, but has a lot of funky quirks and feels so unique and, well…you! How did you balance those things during the design and decorating process?
BEN: We decided at the beginning that we wouldn't make any purchases just because we needed something to fill a space. Because of that, the house continues to evolve as we find new and fun pieces. We attend auctions regularly because of our store and are always on the hunt for the next best thing, we also LOVE getting rid of stuff so the pieces in our house tend to change frequently. Our home is a fluid thing so we don't feel like it's ever going to be complete.
THE MAINERS: Your style feels warm, simplistic, and resourceful. Do you have any fun stories behind some of the pieces in your home?
EMILY: The only thing we buy new is pottery from our friends Meghan Flynn and Ariela Nomi Kuh, everything else we salvage (except our mattress, those should always be new). Our sink is probably our favorite piece in the home. We found it in Searsport at a Place called the Trash and Treasures Barn. It's five feet long, so we had to change our kitchen plans, but I'm so glad we did. Everything in our house has a weird little story about how we got it. The orange chair used to be mustard polyester; we found it on the side of the road and I recovered it with cotton velvet from Mardens. The Vulcan range used to be in Amalfi in Rockland but had been sitting in a barn for about 10 years, so we restored that. The hoosier cabinet came out of the home of one of our first big consignors. The monson slate box next to the couch is an as of yet unidentified piece that Ben dug out of the woods in Swanville. The clawfoot tub was saved from the dumpster at an inn in Camden and restored along with both bathroom sinks.
THE MAINERS: You both own and operate an incredible vintage clothing store in Rockland called Curator. The space itself is gorgeous and reflects your individual style, while also enticing shoppers and accommodating a lot of clothes! Tell us about the story behind deciding to open up shop, how you source your clothing, and what's in store for the future!
EMILY: We source about 30% of the inventory ourselves, at estate sales, thrift stores, auctions, and other more secret places. The rest comes in on consignment. We are super picky about what we accept, and are constantly trying to hone in on what sells/looks best in our store. I have always thrifted, so I love doing it as my job, but It's also amazing when someone walks in our door with incredible stuff, no digging required. Occasionally, we'll have what we call a "whale", which is when someone strolls in with bags and bags of designer stuff, or a couple dozen pairs of vintage levis (this happened last month, come get them!) We have a SUPER exciting plan for next year, but it's not official yet. I'll just say that we definitely plan on growing.
BEN: Consignment is a family business for me going back to my great grandfather who had an office supply store in Bridgeport, CT so when we had the opportunity to get this amazing space in Rockland we jumped at it!
THE MAINERS: Ben has a background in cooking, correct? Do you entertain often? If so, can you share some tips on hosting? (A recipe would be cool…hint hint!)
BEN: I do have a background in cooking and we entertain as much as we can! I think the best hosting (life?) tip I can give is to not take yourself too seriously. Play to your strong suits and make sure your party is warm and inviting rather than trying to do too much. Roast chicken, a big bowl of salad greens, a crusty loaf of bread, a chunk of good cheese, and a bottle of decent wine will satisfy almost any guest, and if it doesn't then it's time to find new guests! I don't get fancy because then people have a hard time relaxing into an evening. You don't need my recipes, check out Dining In by Alison Roman which is our new favorite book to cook out of on a weeknight!
THE MAINERS: Tell us about your childhoods. Did you grow up in Maine? You both seem to have an eye for fashion, fun, and design. Where do you feel this came from?
EMILY: I grew up in Warren and then Rockport, Maine. When I was nine years old, my family found cheap tickets to Paris and we all went for a week in April. I wore cargo pants, a GAP sweatshirt, and a cotton bucket hat, but I noticed that everyone around me had a distinct sense of style. I got back and declared I wanted to be a fashion designer, instead of a farmer. Ever since then, I have cared about clothing, and although I do not consider myself very fashionable, I do have style. Honestly I dress a lot like my father, but with more jewelry and better footwear. As for our home, I look for pieces that make me happy. My mom always keeps a beautiful, creative home, so she taught me how to care for my space.
BEN: I grew up in Camden and spent a lot of my summers on Vinalhaven. When I met Emily I was wearing mostly tank tops, board shorts, and flip flops. She has helped me figure out what modicum of personal style I now have. I have always enjoyed design and interiors so getting to build my dream house has been a wonderful way to explore those passions of mine. As for fun, no one has more fun than me. I have always told myself that my life is amazing and that has really come true.
THE MAINERS: Do you have a favorite fashion designer, old or new?
EMILY: Most of my favorite pieces are unlabeled vintage ones, from the 50s-70s. I have never had the budget or lived an area where designer clothing was anywhere but Vogue and W.
I wear jeans nearly every day, so I guess that vintage jeans are my favorite designer.
BEN: Nah, I like watching runway shows sometimes just to see how crazy designers can be but I care more about the success of our business and playing with our dog.
THE MAINERS: When we were sorting through some vintage women's clothing, we started talking about the sizing. Some are so incredibly small! You must notice that sizing has changed over the years. Can you tell us more about this?
EMILY: People used to be so much smaller, because everyone was malnourished and constantly fighting off disease. Because sizing has changed, we recommend shopping based on how it looks. Whenever I help people with vintage jeans I tell them to hold them up and see if they look like the pants they put on every day. Maybe it's a bigger number size than what they're used to, all that matters if they fit well and feel amazing. People now get really stuck in their size, but I encourage everyone to just shop the whole store, especially when thrifting. Some of my best finds have been filed in the wrong size and gender but I make a point to get my eyes on every rack in the shop. For example, I found a pair of extra small 70s overalls in the women's size 16 pants section.
THE MAINERS: What would be the Holy Grail of vintage finds? Anything you have your eye on but haven't come across yet?
EMILY: I always have a Holy Grail that I'm looking for. Sometimes that means a three year search, or sometimes I break down and buy it on eBay or Etsy. Right now I'm looking for a vintage leather duffle bag…
BEN: An original AC/DC For Those About to Rock tour tee. I already have more than I could ever need so it's just fun to find things I could never think of.
THE MAINERS: Rockland appears to be a very up and coming community. With CMCA, The Strand, and a myriad of amazing restaurants, along with many galleries there appears to be a lot of life happening up there. Has this been a slow progression? What do you see for the future of Rockland?
EMILY: Rockland has come so far! When we were young, there was a cannery so it always smelled like old fish in town. There's an old midcoast saying, "Camden by the Sea, Rockland by the smell." Ever since that closed, the town has been on a different path. Obviously the Farnsworth has a huge part in that, but now that CMCA is also here, it feels like a real art destination. So in a sense it's been a slow progression that has sped up recently. We hear that Rockland was a pretty happening place in the 50s and 60s. Old timers love to come in and tell us that there used to be a burlesque dancer in the bar below our store. We chose Rockland for our store because there's still so much room for growth, and it's more lively and fun than some of the sleepier Midcoast towns (no shade, we grew up here, remember?)
THE MAINERS: What's the best advice you were ever given?
EMILY: Buy quality, not quantity.
BEN: Success comes from happiness, not the other way around.